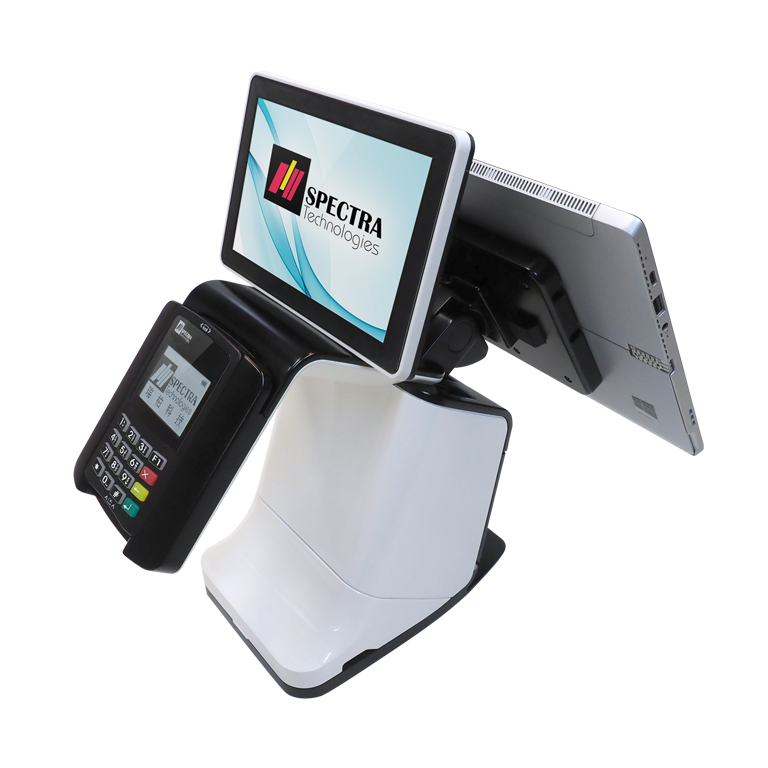 Integrated one-stop solution for your business expansion
Designed as a central hub of POS to connect displays, tablets, network and various payment terminals. The Tablet Stand POS is a multi-functional counter top transformer which has created a convenient platform for various merchants to custom-make their own POS station at shops.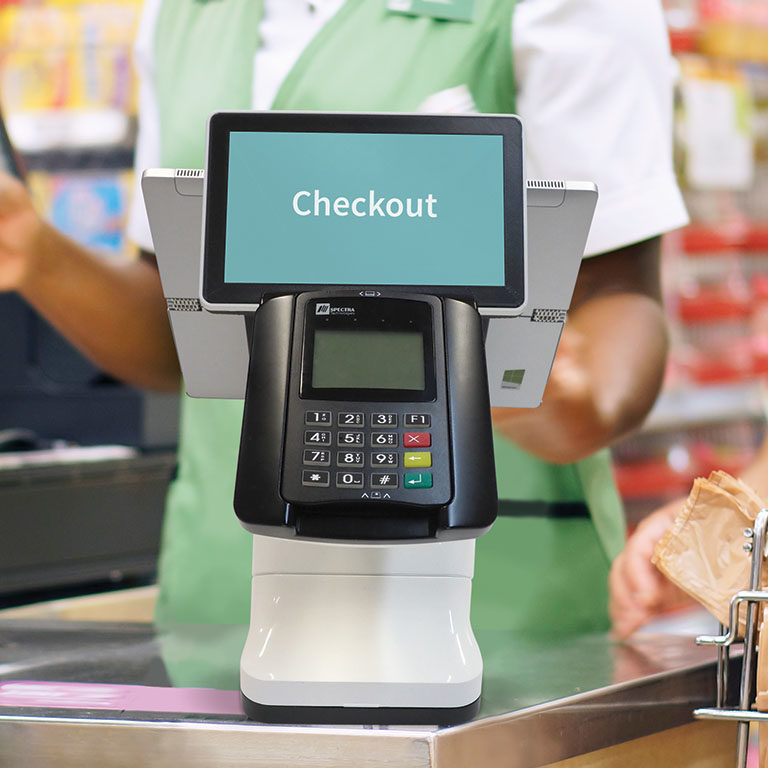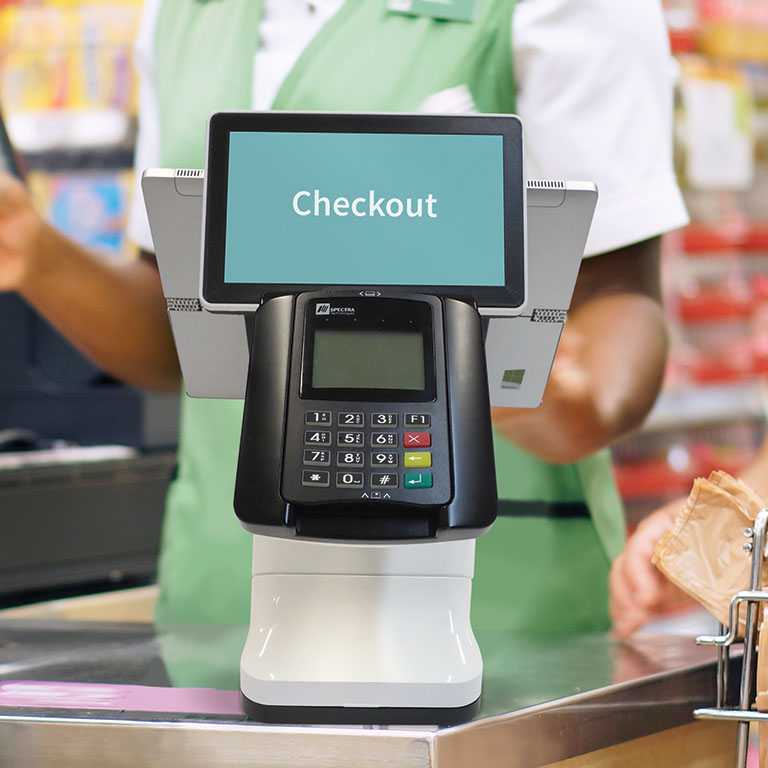 • Support Android/Windows® platform
• Support MagStripe, EMV and contactless payment
• Bluetooth® connection to mPOS
• Either Ethernet, WIFI or 3G/4G communication to outside world
• Built-in super fast and reliable 3″ thermal printer with auto-cutter
• 4 x USB host port (connected to USB devices like cash drawer, bar code reader…etc)
• Support SPECTRA SP530 mPOS and T300 mPOS
• Wide selection of different tablets
• Dual screen display
• Android or Windows tablet with 8"~15" display
• Large capacity backup battery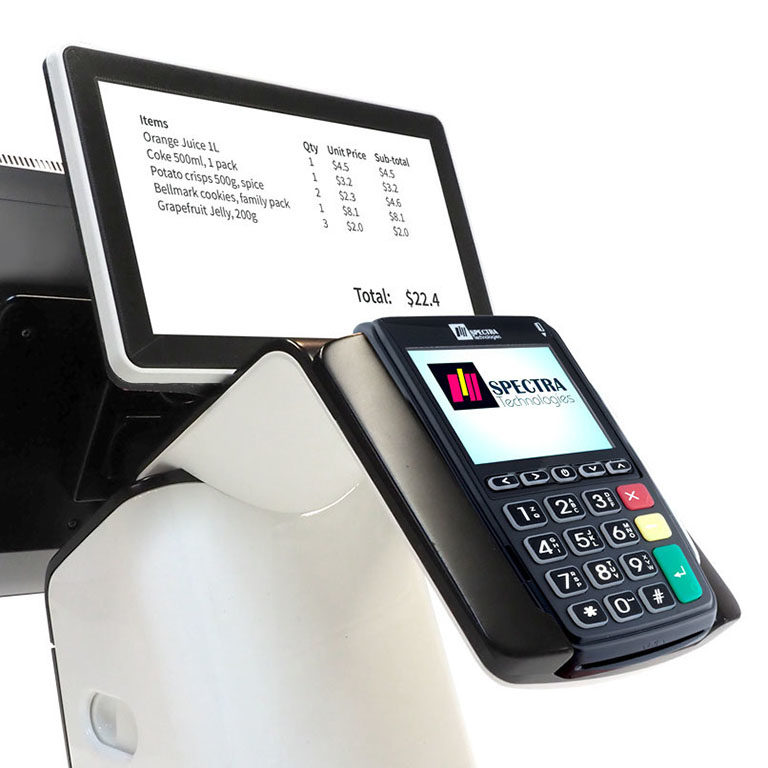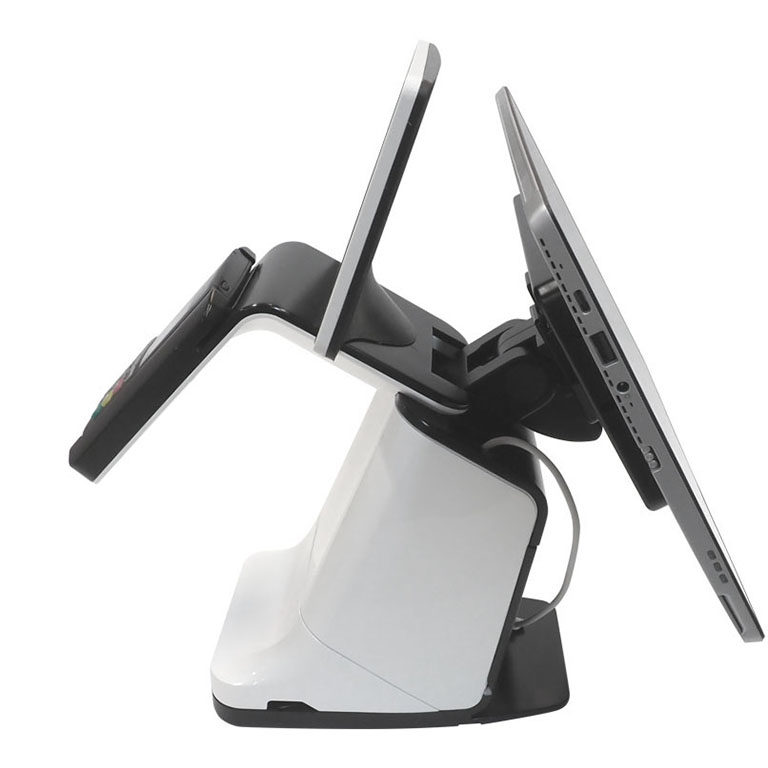 Feature of Tablet Stand POS
ARM® Cortex® secure processor
8-15″ Android or Windows®
Touch screen/signature pad
Available for T300 mPOS only
Magnetic Track 1/2/3
EMV
NFC Contactless (optional)
For SP530 mPOS: 8/16MB Flash, 256KB RAM
For T300 mPOS: 128/512MB Flash, 64MB RAM
For SP530 mPOS:
SAM x 1 (optional), Micro SD x 1 (optional)
For T300 mPOS:
SAM x 2 (optional), SIM x 2 (optional)
Printer type: 3″ thermal with auto-cutter
Printing speed: Max. 250mm/sec
Paper roll: 80mm diameter
RS232 x 1
USB 2.0 x 1
USB host port x 4
24V DC input, 100~240 AC, 50/60Hz
PCI PTS
Visa PayWave
MasterCard Contactless
TQM
FCC/CE
EMV L1 & L2
SRED
QPBOC
American Express ExpressPay (T300 only)
JCB J/Speedy (T300 only)

312 (L) x 186 (W) x 345 (H) mm
For SP530 mPOS:
3.3kg, without 7″ customer LCD & no battery
3.7kg, with 7″ customer LCD & battery
For T300 mPOS:
3.8kg (no battery), 4.0kg(with battery)
*Specifications is subject to change without prior notice.